THE THIN PLACES:
DOONAMOE / DÚN NA MBÓ
THE LAND EATING THE SEA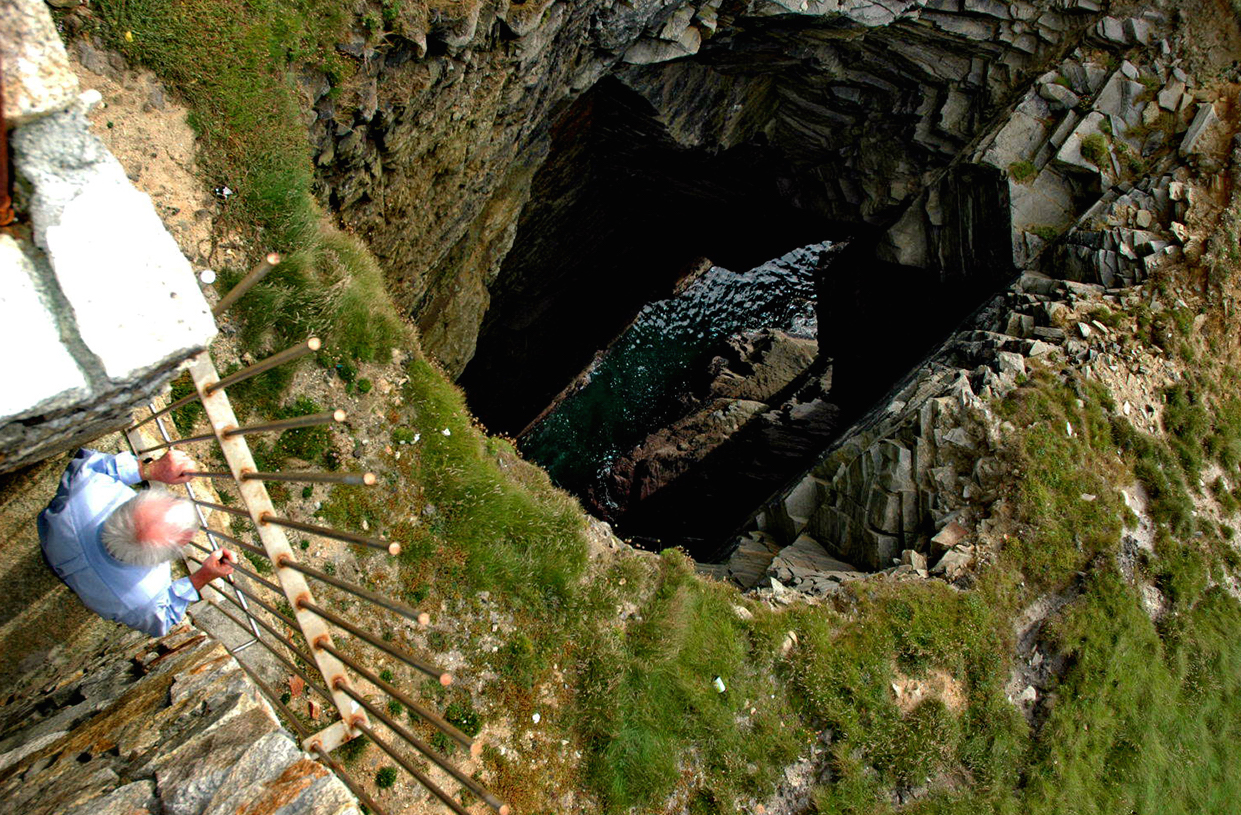 2002 - DOONAMOE / DÚN NA MBÓ
'The thin edge between the sea and the rock...unrelenting time wearing time...the tide out...the tide in...always and never the same..where the sea eats the land...
Two projects that worked together as places dedicated to those lost at sea, the Thin Places at Anagh Head and Doonamoe work as the 'thin places' in which 'time past is part of time future, and time future is time past, and time now is encompassing all.' The construction encompasses an enormous natural blow-hole, where the sea shoots up 120 feet.
'An tairseach chaol idir muir agus carraig... an t-am ag gabháil thart gan stad gan staonadh... lán mara... lagtrá... mar an gcéanna ach difriúil i gcónaí... áit a n-íosann an talamh an fharraige...
Is amhlaidh atá in 'The Thin Places' ná dhá thionscadal a sheasann le chéile mar áiteanna tiomnaithe dóibh siúd a cailleadh ar an bhfarraige, ceann suite ag Ceann an Eanaigh agus ceann eile ag Dún na mBó. 'Áiteanna caola' is ea iad, nó tairseacha, 'áit a bhfuil an t-am seo caite mar chuid den am atá le teacht, áit is ionann an t-am atá le teacht agus an t-am seo caite, agus an t-am uile ag titim faoi scáth an ama faoi láthair'. Tá poll séideáin ollmhór i lár an tsaothair seo, as a gcaitheann an fharraige steallta uisce 120 slat san aer.
Location: Doonamoe, Belmullet / Áit: Dún na mBó, Béal an Mhuirthead
Geographical coordinates:
Latitude 54. 224998; Longitude -9° 990833
Comhordanáidí Geografacha:
Domhanleithead 54. 224998; Domhanfhad -9° 990833